Microdermabrasion
Microdermabrasion is a method based on the principle of superficial skin layer exfoliation by spraying aluminum oxide micro-crystals under pressure. During the procedure aluminum oxide micro-crystals provide soft exfoliation of the superficial skin layers when touching them, and meanwhile dead skin cells and exfoliated skin residue are absorbed by the vacuum system of the device. There have been no cases of allergic reactions caused by this procedure as aluminum oxide micro-crystals are unloaded and do not get into reactions with biological tissues.
Microdermabrasion renews the cell basis and increases collagen production by pushing the necessary mechanisms. This method is used not only with medical purposes but also to slow down skin aging.
The result of this procedure is the reduction of skin roughness which makes it look smooth and shining.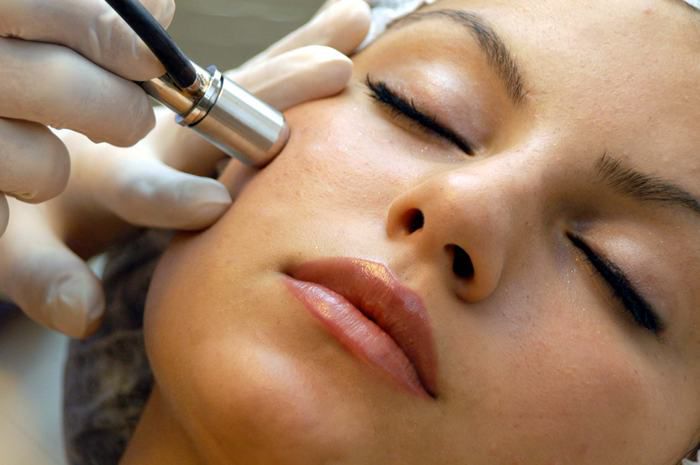 In what cases is microdermabrasion used?
Thin wrinkles and facial lines
Facial and body (chest, hands etc.) pigmented patch treatment
Skin defects due to sun exposure
Hyperkeratosis (skin thickening)
Skin roughness reduction
Acne scars and skin wound scars reduction
Cleansing and fat content reduction of oily skin
Anti-aging and skin tonus boost
Pregnancy stretch marks removal
Blackheads removal
Post surgical scar removal
Treatment of pigmented patches like melasma and senile patches
Seborrheaic keratosis
Does it have any side effects?
Microdermabrasion is a painless method that demands no anesthesia and has no risk. A patient gets back to their normal way of living immediately after the procedure. After the procedure it is necessary to use high sun protection factor creams.
How is the microdermabrasion procedure performed?
Microdermabrasion is applied in 10-30 minutes sessions. The sessions are performed with 1-4 weeks breaks. Depending on the problem and for a better effect a program that consists of 4-10 sessions is necessary. After a complete treatment course it is recommended to have one skin care treatment session in 2-3 months. Compared to darker complexions, skin with lighter complexion demands more time and effort to reach the desired effect.
What rules should be observed after the treatment?
Do not peel possible crusts. Use moisturizers prescribed by the doctor. Avoid sun exposure as much as possible. Use high sun protection factor creams even in wintertime as microdermabrasion increases the risk of hyperpigmentation that is skin patch formation.
What are the counter indications?
Open wounds
Herpes infection
Warts
Rosacea
Eczema, rosacea, skin cancer
Use of Roaccutane capsules (must be stopped at least 2 months before the treatment)
Uncontrolled diabetes
Vascular lesions (hemangioma, telengiectasis, couperos)
What rules must be observed before microdermabrasion?
The following procedures must not be applied 2-3 days microdermabrasion.
Skin care
Hair dying
Epilation (laser, wax, tweezers, thread, depilation creams, gel epilation)
Brush cleaning and mechanical peeling
Skin exfoliation procedures (glycolic acid, creams containing retinoic acid)
Is the device used for the microdermabrasion procedure important?
The power of the device is very important for the effectiveness of the treatment because aluminum oxide micro-crystals are sprayed to the skin under high pressure. Besides, local application of high pressure in certain spots brings very good results. In our clinic the microdermabrasion procedure is performed with one of the latest modern medical devices called "GP silk Peel".